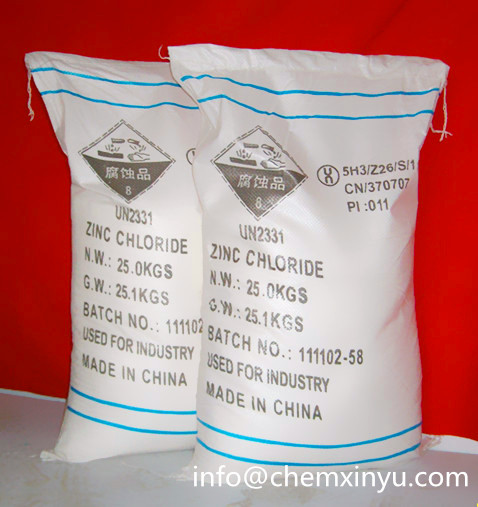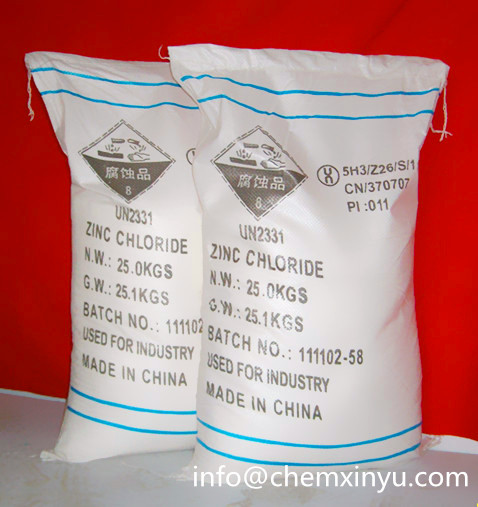 ZINC CHLORIDE 98%
Class: OILFIELD CHEMICAL
Time:2016-11-30
Click:
TEL:133-7082-9359
Email:info@chemxinyu.com

COMMODITY : ZINC CHLORIDE 98%
CAS NUMBER:7646-85-7
HS.CODE:282739
Molecular Formula : Zncl2
Molecular Weight :136.29
Solidifying Proportion: 2.91
1、 Products Quality :Ourproducts are produced and checked according to the HG2323-92 standard .The mainindex-the content of zinc chloride has reached 98%(beyond normalrequirements);other indexes have reached of exceeded the normal requirements.The rate of excellent products is 100%.
2、 Throughput:2000t/a
3、 Main use:It can beused as electrolyte substance of batteries ,dehydration or condensing agent inorganic compound industry;activator of cation exchange resin;impregnant inproducing PAN Polyacrylonitrile;Intermedium dyeing agent,silk luster agent,andsizing sgent in textile industry .It can be used to produce active dyestuff andcation dyestuff.
4、 Packaging:With plasticbag,pasteboard bucket,iron bucket etc.50kg and 25kg(netweight),the zinc chloride of our company can satisfydifferent needs of various industries.
SPECIFICATION
People's Republic of China standard GB1625-79 %(m/m)

Item

Industrial Standard

Remark

Controlled

Standard

content(Calculate in ZnCl2)% ≥

98.0

98.02

Chloride oxidation(Calculate in ZnO)%

1.8~2.2

1.90

sulfate(SO4)% ≤

0.01

0.01

barium(Ba)% ≤

0.01

0.01

ferrum (Fe)% ≤

0.0005

0.0003

plumbum(Pb)% ≤

0.0005

0.0003

Insolubles(Hcl) % ≤

0.01

0.01

Note: we confirm all of our products reach the standard