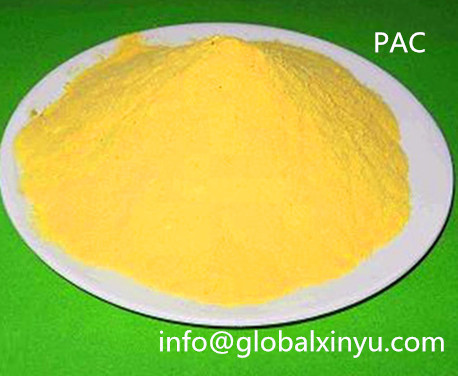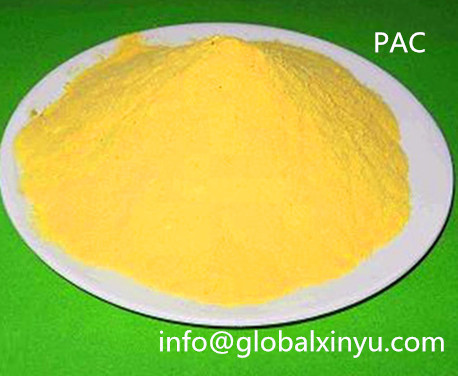 POLYALUMINIUM CHLORIDE
Class: WATER CHEMICAL
Time:2017-10-26
Click:
TEL:133-7082-9359
Email:info@chemxinyu.com

POLYALUMINIUM CHLORIDE
Molecular Formula: [AL2(OH)nCL6-n]m
The picture below with mother liquid is for reference only.
Widely used in the purification of drinking water, urban water supply and precision manufacturing water, especially in paper-making industry, medicine, refined sugar liquor, cosmetic additives and daily chemical industry, etc...
Solid products should be dissolved and diluted before input. The best input volume can be confirmed by testing and preparing agent concentration based on different water qualities.
② Solid product input volume: 1-15g/t,
Specific input volume should be subject to flocculation tests and experiments.
Every 25Kg of solid products should be put in one bag with inner plastic film and outer plastic woven bag. Products should be stored in the dry, ventilated and cool place inside the door for fear of damp. Don't store them together with inflammable, corrosive and toxic goods.
Shelf life of products is one year.
Fine Powder, readily soluble in water, excellent flocculant effects, stable and effective purification process, low throwing quantity and cost, low water insoluble sludge,low iron content.
Environmental, healthy, safe, reliable, non-toxic, harmless.
Quality is higher than China National Standard GB15892-2009.
Name of indicator:

Indicator

National standard

Company standard

Al2O3 % ≥

29.0

30

Basicity %

40 -90

40-65

Density (20ºC) ∕ (g/cm3) ≥

1.12

--

Water insoluble% ≤

0.6

0.1

PH value (10g/L water solution)

3.5 ~ 5.0

3.5-5.0

As % ≤

0.0002

0.0002

Pb% ≤

0.001

0.001

Cd% ≤

0.0002

0.0002

Hg % ≤

0.00001

0.00001

Cr6+ % ≤

0.0005

0.0005