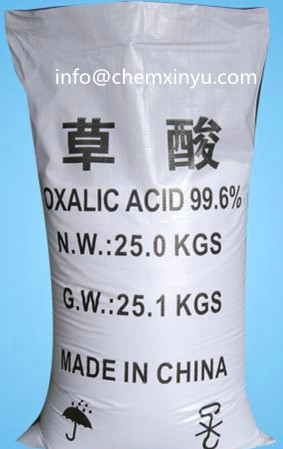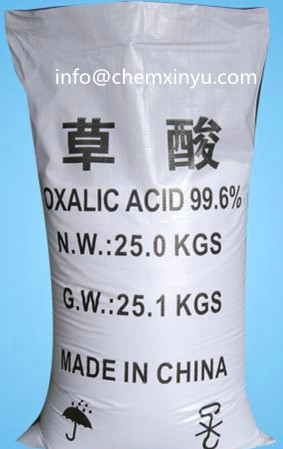 OXALIC ACID
Class: TEXTILE CHEMICAL
Time:2017-11-29
Click:
TEL:133-7082-9359
Email:info@chemxinyu.com

1.Properties:
Product Name: Oxalic Acid
Molecular Form: C2H2O4.2H2O
Molecular Weight: 126.07
CAS NO.: 6153-56-6
EINECS NO.: 205-634-3
HS.CODE: 2917 1110
Appearance: Oxalic Acid is white crystal. Its melting point is 101-102 °C and sublimes at 157 °C. It is soluble in water, alcohol and ethyl ether. It is insoluble in benzene and chloroform. It is toxic. Pharmaceutical industry: for ring elements. Oxy tetracycline. Borneol;
2.Applications:
1) In Metallurgy industry: as precipitating and separating function for Rare-earth metal.
2)In pharmaceutical industry: used in Tetracycline, Oxy tetracycline, and Borneol, etc.
3) In Dyeing and printing industry: as reducing agent for dyeing and printing industry, as bleaching agent for textile and wood , substitute for Acetic acid, as coloring mordant for fast pigment dyestuff.
4) In organic synthetic: used in 2133 resin, Urea-formaldehyde molding powder, Butadiene catalyst, etc.
5) In electron industry: preparation of chemicals raw material for porcelain capacitor, preparation of electron equipment detergent.
6)In Light industry: polishing for Marble, rust-remover, bleaching, dirt-remover, leather-remover. bleaching.
7) In other aspects: as analysis reagent, raw material of chemicals.
| | |
| --- | --- |
| Oxalic Acid | Index |
| Content: | 99.6% Min |
| Sulphate (SO42-) | 0.08% Max |
| Heavy Metals (Pb2+) | 0.0005% Max |
| Ferrous (Fe3+) | 0.0005% Max |
| Chloride (Clˉ) | 0.002% Max |
| Ignition Residue (850ºC) | 0.03% Max |